Whether your loved one has lived alone at home or in an assisted living option in a senior community, down the road, there might come a time when another transition, such as memory care, becomes necessary.
So how do you know when it's the right time for memory care? Moving to memory care can be difficult but necessary if an older adult is experiencing memory loss or other symptoms of dementia.
Before making a decision, a discussion with a loved one's doctor and family members can help make the transition as smooth as possible. Many senior living communities have memory care options.
What Is Memory Care?
While other lifestyle options include care, maintenance-free living, and a sense of community, memory care offers specialized care and support for those with memory impairments.
Dementia affects millions of people as they age, but it's not a normal part of aging. Dementia and Alzheimer's disease, the most common form of dementia, progresses over time and can impair your ability to remember, think, or make decisions, called cognitive impairments.
Cognitive impairments can interfere with everyday tasks, making starting a discussion about transitioning to memory care vital before symptoms worsen. Memory care can provide the following:
Round-the-clock care with 24-hour supervision
Help with day-to-day activities like bathing and dressing
Housekeeping, meals, and social activities
Secure environment with safety precautions to prevent wandering
Tailored activities and therapies to benefit physical and mental wellness
Why Consider Memory Care?
Choosing memory care depends on individual circumstances and needs. If a loved one starts experiencing the following symptoms, it may be a good idea to seek memory care services:
Memory loss
Confusion
Disorientation
Difficulty completing tasks
Getting lost
Using unusual words
However, before you make a decision, it's best to discuss it with a loved one, meet with family members, and have a medical exam to assess the individual's needs and recommend the best course of action.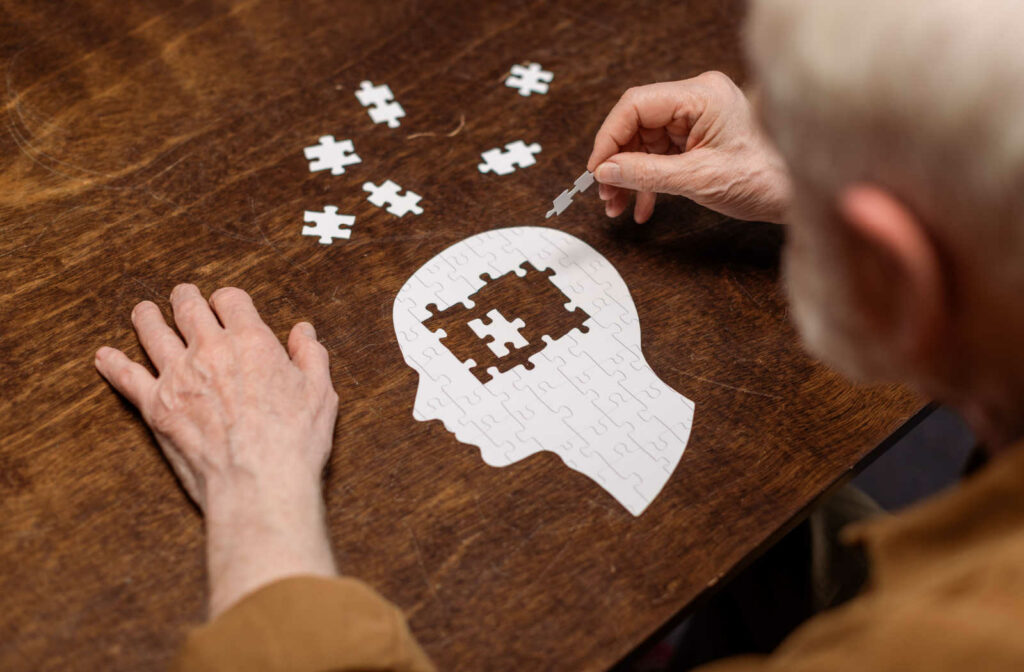 12 Signs It's Time for Memory Care
There is no set guideline for when full-time memory care is required. A medical assessment and noticeable signs by a caregiver or staff at a senior living community can indicate a higher level of care is necessary.
Indicators such as physiological and cognitive changes can also provide insight, as can these 12 signs:
Memory loss: Forgetting a close family member or friend's name or old memories.
Struggling to retain new information.
Problems with language: Having difficulty communicating and finding the right words.
Difficulty managing finances, such as missing bill payments or making confusing calls about disconnected services.
Neglect of personal hygiene and household tasks: Having difficulty performing routine tasks, such as getting dressed, preparing a meal, or skipping meals.
Impaired judgment or unsafe behavior, like can include leaving the stove on or wandering.
Poor health management: including forgetting to take or taking too much medication or missing doctor's appointments.
Difficulty keeping track of time and dates: Including forgetting the day of the week or not knowing how you got somewhere.
Withdrawal and loss of interest in hobbies and social activities can lead to social isolation.
Inappropriate behavior and physiological changes, such as paranoia and hallucinations.
Difficulty problem solving or reasoning.
Problems with movement and balance.
Questions to Ask to See If It's the Right Time for Memory Care
Sometimes knowing when to seek out memory care isn't clear cut, or you might miss signs and symptoms. In that case, here are some questions that can help you decide if now's the time for memory care for your loved one:
Does your loved one get lost on routes they frequently take, such as to the grocery store or for a walk in the neighborhood?
Does your loved one remember to take their medication or eat?
Has your loved one had any emergency room visits?
Does your loved one have bruises they can't explain?
Can your loved one name objects properly?
Memory Care When You Need It
The early detection of symptoms can help with dementia management in older adults, planning ahead, and considering memory care.
A move to memory care may be essential to help provide specialized care, support, safety, and comfort for those with cognitive decline. Contact Boden Senior Living to learn more about transitioning to memory care.